Favorite Recordings:
McCoy Tyner Trio featuring Michael Brecker - Infinity
Raaf Hekkema - Paganini Caprices
Claude Delangle - Under the Sign of the Sun
Miles Davis & Gil Evans - The Complete Columbia Studio Recordings
Charles Mingus - Mingus Ah Um
Neal Morse - One
Dream Theater - Images and Words
Yes - Fragile
Wayne Shorter - Schizophrenia
Return to Forever - Romantic Warrior
John Zorn - Naked City
Favorite Books:
Arcana: Musicians on Music - edited by John Zorn. This ongoing series (currently on book six) is a compilation of short articles by musicians. Some contributors include Steve Coleman, Wayne Horvitz, Evan Parker, Lukas Ligeti, and Bill Frisell. I read it when I want to get my wheels turning about improvisation, composition, and theory.
Miles: The Autobiography by Miles Davis with Quincy Troupe - Miles Davis pulls no punches and delivers a sprawling history of his successes and struggles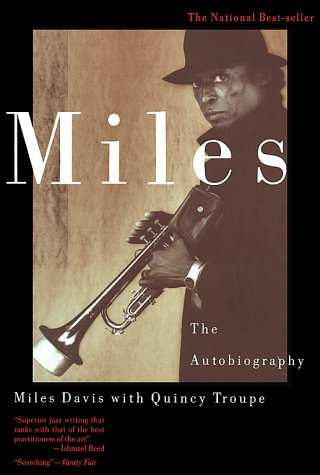 A Love Supreme: The Story of John Coltrane's Signature Album by Ashley Kahn - a thorough account that leaves no stone unturned on the history of A Love Supreme.
The First Days of School by Harry and Rosemary Wong - A must for every teacher.
Footprints: The Life and Work of Wayne Shorter by Michelle Mercer - Wayne Shorter is one of my musical heroes and this book is a fantastic glimpse into his life.
The House that Trane Built: The Story of Impulse Records by Ashley Kahn - Coltrane is responsible for the rise of Impulse Records? Wow. A very cool read as to how Coltrane's recordings and legacy shaped an entire label.
The Music's All That Matters by Paul Stump - If Progressive Rock is your thing, then you must read this book. Rich with details and history of this genre giving ample room to Yes, ELP, King Crimson, Pink Floyd, and many more artists.
The Studio Recordings of the Miles Davis Quintet, 1965-1968 by Keith Waters - Oh, isn't this what jazz buffs have dreamed of for so long? A detailed look into Miles' second great quintet. Now we need the same thing done to the Complete Plugged Nickel Sessions.
Composers on Composing for Band by Mark Camphouse - Essays from leading composers Karel Husa, Jack Stamp, W. Francis McBeth, Frank Ticheli, and more. Great insights into these composers lives, the process of composing, and why they compose for band.
John Coltrane: His Life and Music by Lewis Porter - an awesome account historically and theoretically. The analysis and transcription of "Venus" from Interstellar Space is mind blowing.